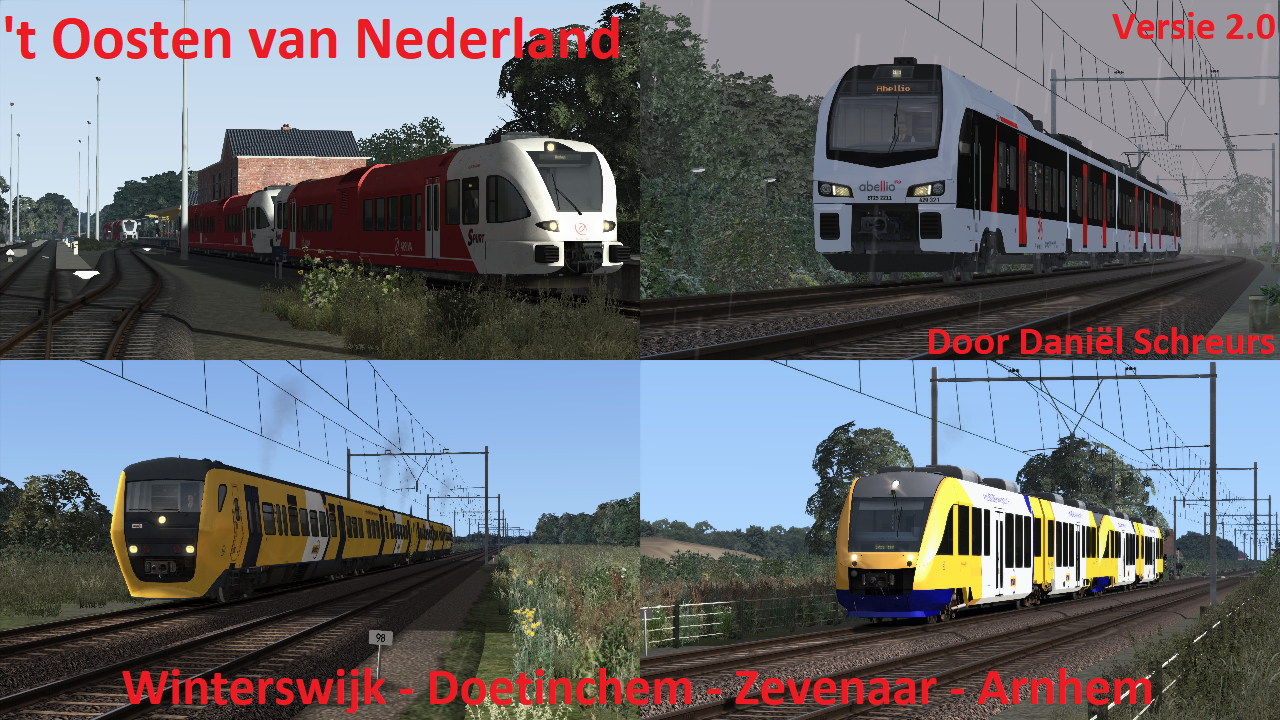 Deze inhoud is alleen te zien voor ingelogde gebruikers.

Deze inhoud is alleen te zien voor ingelogde gebruikers.

Handleiding

Manual

Handbuch

Beschrijving
Sceneryupdate 14-1-2022:
Voegt enkele recent uitgebrachte objecten van Frison toe aan de route, pak deze zip uit NA het installeren van de route en kies voor overschrijven.
Heeft geen invloed op scenario's.
Oost Nederland is een route gelegen in het Oosten van ons land, de naam zegt het al. De route loopt van Winterswijk (West) via Doetinchem en Zevenaar naar Arnhem Centraal.
- 66 kilometer lang
- 17 Stations

Description
Sceneryupdate 14-1-2022:
Contains a couple of scenerytiles that add-in recent objects made by Frison. Extract the zip in the appropriate folder after you've installed the route itself. In case a file allready exists you may choose to overwrite. Does not have an impact on scenario's
Oost Nederland is a route located in the east of the Netherlands as the name suggests. Included in this route is the line between Winsterswijk and Arnhem Centraal. For AI included is Winsterswijk West (1 station before Winsterswijk running to Zutphen).
For the current downloadlinks, please use the Dutch manual.
- 66 kilometers long
- 17 Stations

Beschreibung
Sceneryupdate 14-1-2022:
Die am 14-01-2022 publiezierten Update erzetst einige Assets welche durch Frison erstellt sein. Installieren Sie den Update nach das installieren der originale Route.
Oost Nederland ist eine Route im Osten der Niederlande, wie der Name schon sagt. In dieser Route ist die Linie zwischen Winsterswijk und Arnhem Centraal enthalten. Für KI enthalten ist Winsterswijk West.
Für die aktuellen Downloadlinks, bitte nutzen Sie das Holländische Handbuch.
- 66 Kilometer lang
- 17 Stationen
Benodigde add-on / Required add-on:
Lees de handleiding! / Please read the manual!
Auteur: DanielSyntus
Bestandstype: .zip
BestandsID: ds-ts-0022